The Hoot
Actionable ideas for the busy trader delivered daily right up front
Monday uncertain.

ES pivot

2053.33. Holding below is bearish.
Rest of week bias uncertain technically.
Monthly outlook: bias higher.

Single stock trader: VZ still not a swing trade buy
Recap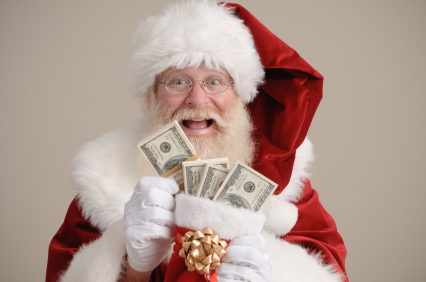 The Santa Claus rally, 2015 edition
H
o ho ho! Looks like Santa showed up just in the St. Nick of time last week to deliver loads of nicely wrapped profits for all the good little traders everywhere. Nicely done and a round of applause for Mr. Claus!
Now we turn our attention to the waning days of the year as we look forward to 2016. With another holiday shortened week ahead I'm considering extending my vacation. And I'm also not expecting a lot of action on New Year' s Eve, leaving just three days here.
In fact I was contemplating just taking the entire week off once again but what the heck, I just can't stay away that long and after all it's the last gasp of the year so let's at least take a look to see how Monday will shake out. Of course, there's little point in reviewing four day old charts, so we'll do a Night Owl Lite and just present the conclusions. Maybe I'll do Tuesday too.
The technicals
Market index futures:
Tonight, all three futures are slightly higher at 12:09 AM EST with ES up 0.04 %.
ES daily pivot
: Tonight the ES daily pivot rises from 2047.17 to
2053.33.
That now places ES just below its new pivot so this indicator is bearish tonight.
Accuracy:
Month right wrong no call conditional batting Dow
average points
January 8 6 4 1 0.563 627
February 6 4 5 3 0.692 183
March 7 6 5 4 0.647 976
April 3 8 7 0 0.273 1
May 6 5 5 2 0.615 581
June 8 6 3 4 0.706 552
July 10 1 5 4 0.938 1212
August 10 2 3 2 0.857 2314
September 7 4 8 1 0.667 1404
October 7 7 5 1 0.533 538
November 4 6 4 2 0.500 -350
December 8 2 4 0 0.800 1029
And the winner is...
The first day after Christmas is historically quite bullish according to the Stock Traders Almanac. We've also been seeing a run of down Fridays that are followed by up Mondays. However, tonight we're looking at a monster three day run-up last week ending in a red inverted hammer, coupled with sagging futures in the Sunday overnight.
I note too that the indicators are all quite confused tonight with RSI and mone3y flow falling but momentum and the stochastic rising, and OBV flat. Because of all this, plus the difficulty of calling a day following an extended holiday I will simply note a modestly bearish bias but not enough to actually call Monday lower. So I guess all that leaves is
Monday uncertain
.
Single Stock Trader
After three nice gap-up days and a bounce off its 200 day MA this one is clearly not a swing trade buy tonight.